Buchholz' Misty of Cali Pits
"Misty"
10-1/2 months old
61 lbs
19"Head
19" Tall
Misty, whose father is GRCH PR Sampson of California
Pits, was suppose to be our inside, well groomed show
dog. But she had other ideas. She loves to be outside,
running and playing with people and other dogs. She's a
smart dog who listens well, when she wants to.
Pictures below are Misty Growing up

Buchholz's Tasha of Vegas
"Tasha"
2 years 10 Months
75 lbs
19 1/2" Head
19 1/2" Tall
Tasha is from Migraine and Big Buddha of
Vegas Kennels.
She's a little hyper and some what territorial, but she
won't let that interfere with the possibility of pets
and/or treats.
Tasha and taz, Tasha on left
Tasha's Litter of the past 8/9/02
6 females, 2 males
Tasha has a new litter on the ground now. Born 1/18/2002 7 males and 2 females
Please visit Puppy Page for updated photos.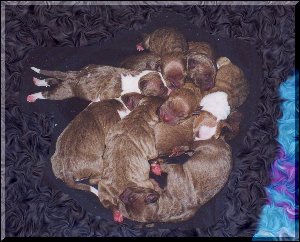 1 year old
Weighs 85 pounds
21 inch head
21 Inches tall

Mercy is a high energy dog.
She is always happy, happy, happy!!
She is a genuine example of the tail
wagging the dog.
When her tail wags, her whole body wiggles.